Stab That Shape! Sensory Activities with Foam Trays
How to entertain a preschooler and toddler with nothin' but trash…
If you've got  a preschooler, I recommend you never throw away a foam tray before using it to its full sensory activity potential! We have enjoyed breaking and stabbing foam plates before, such as when we made our  Foam Plate Sensory Letters.
Recently we were making egg shapes from our foam plates so that we could decorate our Easter tree with Homemade Shrinky Dink Eggs, and it turned into a sensory play time before we even got started with making the egg ornaments.
I traced shapes on to the bottom of the tray using a toothpick then handed the tray over to my four year old.  He used a butter knife to punch out along the lines.  The foam gave a satisfying bit of resistance, and he felt very good about being able to do such a helpful part of our craft project.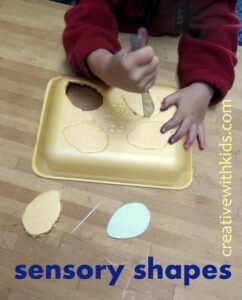 For the toddler I handed her pieces of the foam to break.  After that wore thin, I handed her some plastic forks to stab into the foam (These happen to be our very fun construction themed forks
.)
After a while I handed her a cup so that she could continue breaking foam pieces and then put them into the cup.
Over all a very engaging bit of sensory play that both kids liked, and that helped them practice their fine motor skills as well.
Alissa Zorn is an author, and founder of the website Overthought This. She's a coach and cartoonist passionate about helping people overcome perfectionism and shame to build authentic, joyful lives. Alissa is certified through the International Coach Federation and got her Trauma-Informed Coaching certification from Moving the Human Spirit. She wrote Bounceback Parenting: A Field Guide for Creating Connection, Not Perfection, and is always following curiosity to find her next creative endeavor.